Triple Tahitian Pearl Necklace in Gold
These three "Circle" shaped pearls  are set in hand wrapped 14 karat gold filled pearl caps.
The Circle shape as an extra dimension of iridescent, rich luster.  This piece is very flattering in the way it adorns the body!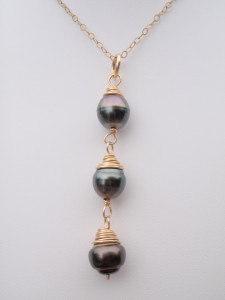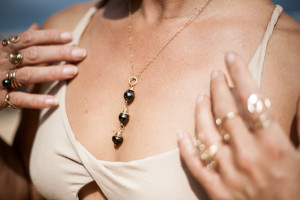 Pairs beautifully with The Tahitian Pearl Teardrop Earrings and the Tahitian Pearl Infinity Bracelet.  Also beautiful in silver.  The Triple Gold Tahitian Pearl Necklace makes an elegant Hawaii gift for yourself or any occasion such as Valentine's Day, Christmas, Hanukkah, Wedding, Anniversary or Birthday.
Triple Gold Tahitian Pearl Necklace