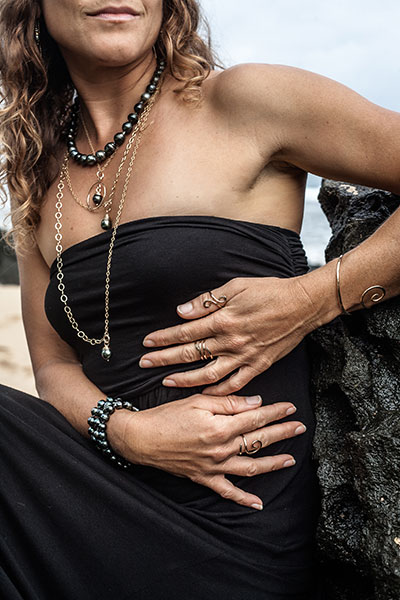 The following Kauai Retail Stores carry fine Hawaiian jewelry in Gold, Silver & Tahitian Pearls.  Visit these Fine Retail Stores on Kauai to purchase necklaces, rings, earrings and bracelets from Hawaii Jewel by Toni Cordas.  Or, visit our Online Jewelry Store now.
Art House Studio/Gallery
3440 Poipu Road
Koloa, HI 96756
808.742.1400
www.arthousehawaii.com
Palm Palm Kauai
Kukui'ula Shopping Village
2829 Ala Kalanikaumaka H157
Koloa, Hawaii 96756
808.742.1131 or 866.599.7256
www.palmpalmkauai.com
Hanalei Paddler
5-5161 Kuhio Highway
Hanalei, HI 96714
808.826.8797
Facebook Page
We went into Hanalei to the Paddler and found your jewelry. I bought 2 bracelets and a ring. I love them! I bought my other pieces at the Art House and the Palm Palm. I have 2 necklaces, 2 earring sets, 4 rings, and 2 bracelets so I should be good for a while. I would still like a pinky ring so I will make an online order with you when I get some money saved up. :)

Next time we come to Kauai I will try and meet up with you to see if you have some new jewelry that is not on your website. I was lucky to find the leaf necklace and had the Art House order the matching earrings. You are a Great Artist!