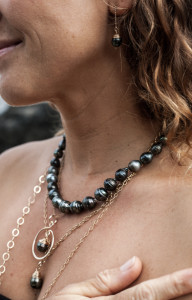 With a swoop of carefully crafted gold, your Tahitian Pearl glistens your way through your exciting evening. For two long years, your Pearl gently rested inside an oyster as its exquisite beauty was formed layer upon layer. Now, you have the rare opportunity to own this Pearl suspended in a dramatic setting by the talented Toni Cordas of Hawaii Jewel.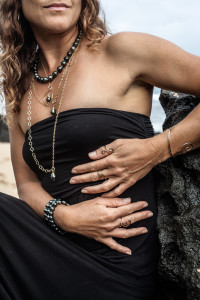 Toni asked one man why he liked this model of the Tahitian Pearl Necklace so much.  He said,  "Because the pearl is framed!"
The Hand Crafted Showcase Style Gold Tahitian Pearl Necklace makes an elegant Hawaii gift for yourself or any occasion such as Valentine's Day, Christmas, Hanukkah, Wedding, Anniversary or Birthday.
Warning:  Pearl wearing is addictive!!!
Every girl loves pearls!
 The Hawaiian woman's diamond. Born of the ocean on Tahiti these "black pearls"come in all lustrous and inspiring shades:  cream, bronze, brown, green, blue, yellow, and silver.  My fun level in creating art soared to new heights when I started to incorporate these gems from mother nature.  Adding all of these exotic colors into my pieces keeps me making more. each pearl is unique and the Rainbow of colors is endless!  The warm color of the gold metal inspires me to use the warmer, greener pearls. The cool color of the silver inspires me to use the cooler, silvery pearls.  
~ Toni Cordas, Hawaii Jewel Artist