Essence of Plumeria On Handcrafted Silver Hoop Earrings
Fragrant Hawaiian breezes linger in your memories…  Bring them to life with beautiful Hand Crafted and Hammered Argentium Silver Plumeria On Hoops.  The Plumeria are removable.  Now available for the same price on 1 1 /2″ hoops.  Please specify.  Also available in Gold.
The Plumeria Design On Hoop Silver Earrings make an elegant Hawaii gift for yourself or any occasion such as Valentine's Day, Mother's Day, Wedding, Anniversary or Birthday.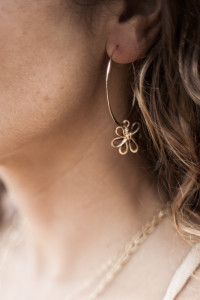 Plumeria Style On Hoop Silver Earrings