Essence of Plumeria Handcrafted Gold Hoop Earrings
Who can forget the wonderful intoxicating scents of Hawaiian flowers?  Remember Hawaii with Hand Hammered 14 Karat Gold Filled Plumeria Earrings, to go with our Plumeria Ring and Necklaces.

Plumeria are removable for another beautiful, different look!   Each Plumeria is unique and free-hand bent!  Hand Crafted Plumeria Earrings are also available in Silver.  Hoops are 1 1/2 inches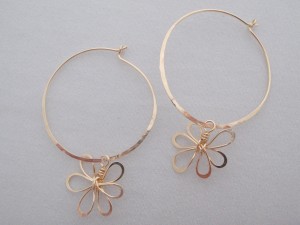 The Plumeria Design Gold Hoop Earrings make an elegant Hawaii gift for yourself or any occasion such as Valentine's Day, Mother's Day, Wedding, Anniversary or Birthday.
Plumeria Design Gold Hoop Earrings