Handcrafted Wave Design Silver Ring
The perfect keepsake to remind you of Hawaii, the Hand Hammered Argentium Silver Wave Ring, is simple and beautifully unique.  Comfortable enough to wear every day and looks especially nice worn on the index finger.  Please specify size. Slightly adjustable.  The Wave Ring is also available in Gold.
The Hand Made Wave Design Silver Ring makes an elegant Hawaii gift for yourself or any occasion such as Valentine's Day, Christmas, Hanukkah, Wedding, Anniversary or Birthday.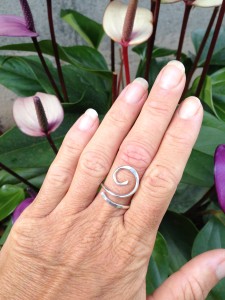 Hand Crafted Wave Style Silver Ring